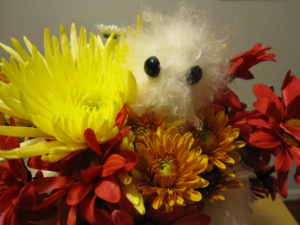 I'll try any craft once, though currently I primarily crochet, sew, and collage. I like to experiment and study, teach, design, try new techniques, and work on both very difficult/complicated and very simple/repetitive (meditative!) projects.
You'll find my patterns and tutorials listed in the catalog section of my craft blog, ReveDreams.com, and you can visit the craft blog itself or just the heavily curated craft Showcase category for my projects.
I teach at the Upper Valley Sew-op; my regular offerings include alterations, embroidery, crochet, and introductory sewing. I'm the unofficial sewing machine stablemaster and teach a class called Learn Your Own Sewing Machine, which covers use and basic maintenance. At least once a month I host an Open Hours, where people can drop in without registration and use the equipment and materials on their own projects.
I used to write on the blog Upper Valley Fiber Crafts and post on Ravelry, though I'm not active on either site nowadays.
Please contact me with any questions.