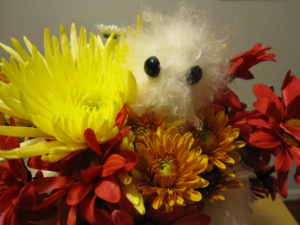 I began my fibercraft adventures in early grade school with cross-stitch, adding some sewing by middle school. In high school I got a trial by fire with sewing, making a Regency dress from a hand-drawn pattern by a friend's mother who had an MFA in costuming, for a production of HMS Pinafore. I went on to work extensively in my college's costume shop and to spend a couple of summers assisting in a mending and alterations shop. Somewhere along the line I started learning more general embroidery, and began crochet in a fit of insomnia in November of 2010.
Fibercraft continues to be a large part of my life, though scattered around in various settings. You'll find my patterns and tutorials listed in the catalog section of my craft blog, ReveDreams.com, and you can visit the craft blog itself or just the heavily curated craft Showcase category for my projects.
I teach at the Upper Valley Sew-op; my regular offerings include alterations, embroidery, and assorted crochet classes. I also assist at and occasionally teach basic sewing, and at least once a month host Open Hours, where people can drop in without registration and use the equipment and materials on their own projects.
Every once in a while I write on the blog Upper Valley Fiber Crafts, and if you'd like to join in we'd love to have you. You can also find me on Ravelry, though I'm not particularly active there.
Please contact me with any questions.