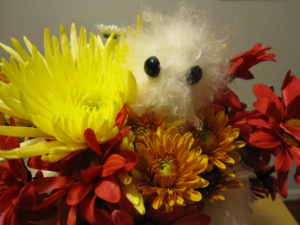 I'll try any craft once, and like to experiment and study, teach, design, try new techniques, and work on both very difficult/complicated and very simple/repetitive (meditative!) projects. My primary crafts currently are sewing (though it's often utilitarian), crochet (I enjoy the act of it, the portability, and the ease of three-dimensional shaping), and collage (newest to the list and more purely artistic than the others).
You'll find my patterns and tutorials listed in the catalog section of my craft blog, ReveDreams.com, and you can visit the craft blog itself or just the heavily curated craft Showcase category for my projects.
I teach at the Upper Valley Sew-op; my regular offerings include alterations, embroidery, crochet, and introductory sewing. I'm the unofficial sewing machine stablemaster; I teach a class called Learn Your Own Sewing Machine, which covers use and basic maintenance, and run a workshop called Machine Care and Troubleshooting, to which people bring their machines, clean and oil under guidance, and get my help with difficulties that don't clear up in that process (time and tools permitting I'll even make small repairs). At least once a month I host an Open Hours, where people can drop in without registration and use the equipment and materials on their own projects.
I used to write on the blog Upper Valley Fiber Crafts and post on Ravelry, but I'm not active on either site nowadays.
Please contact me with any questions.